/
/
Fort McNair Fitness Center – Joint Base Myer-Henderson Hall
Fort McNair Fitness Center - Joint Base Myer-Henderson Hall
Fort McNair Fitness Center - Joint Base Myer-Henderson Hall
M
malourdesgulmatico
Updated
Installation Listings
Installation Listing Category
Geographical Address
Duty Station (or best approximation)
Public Address
5th Avenue Bldg. 69 Fort McNair 20319 United States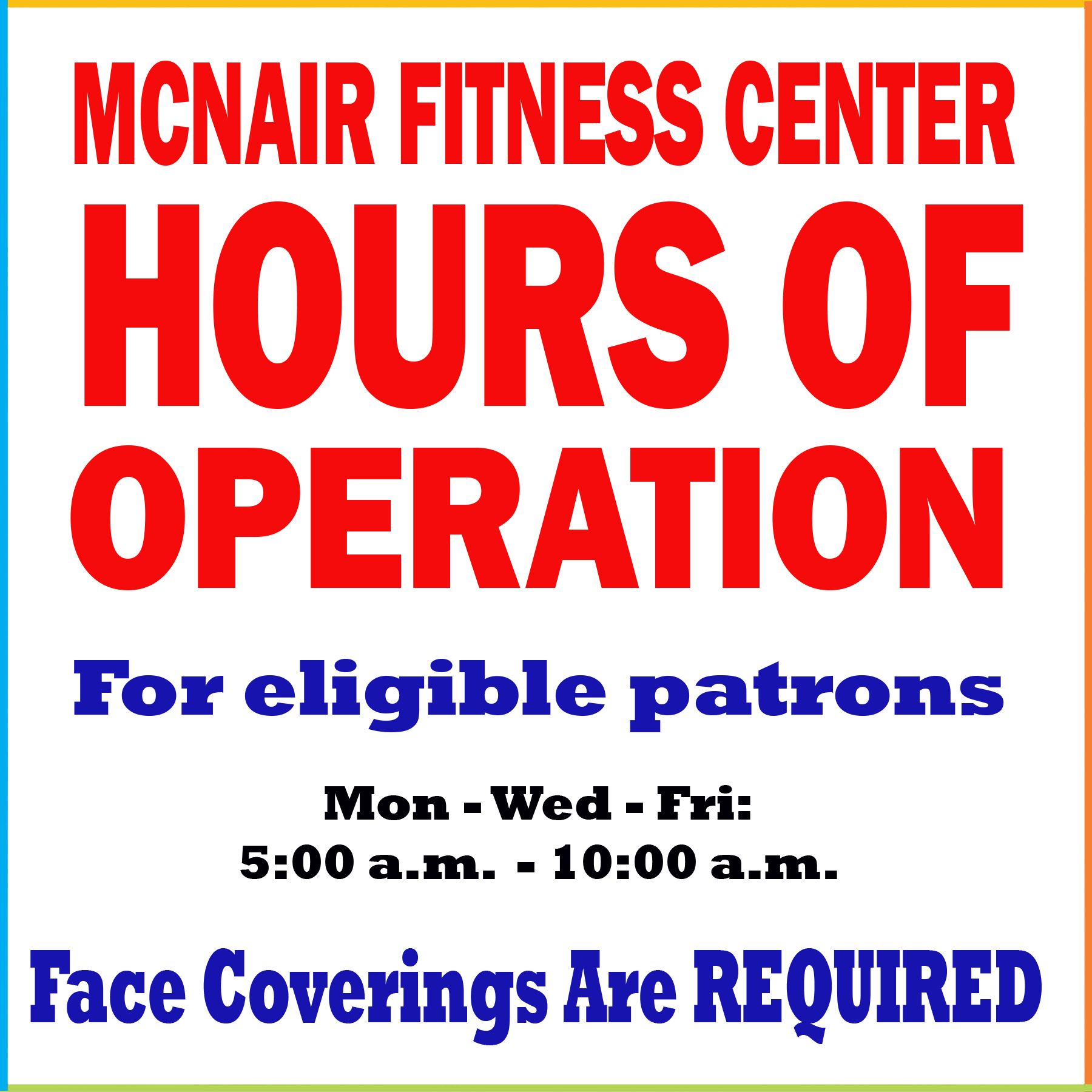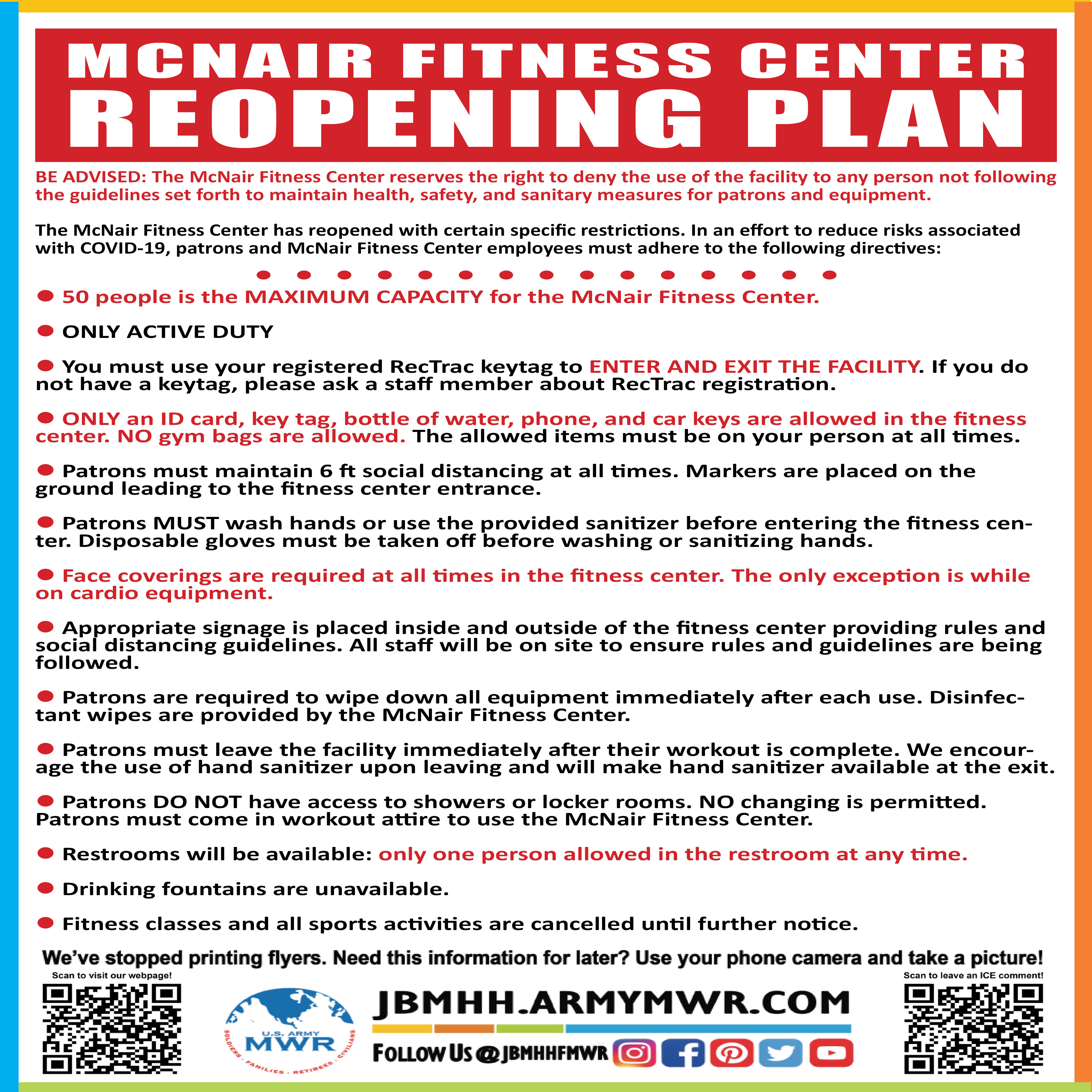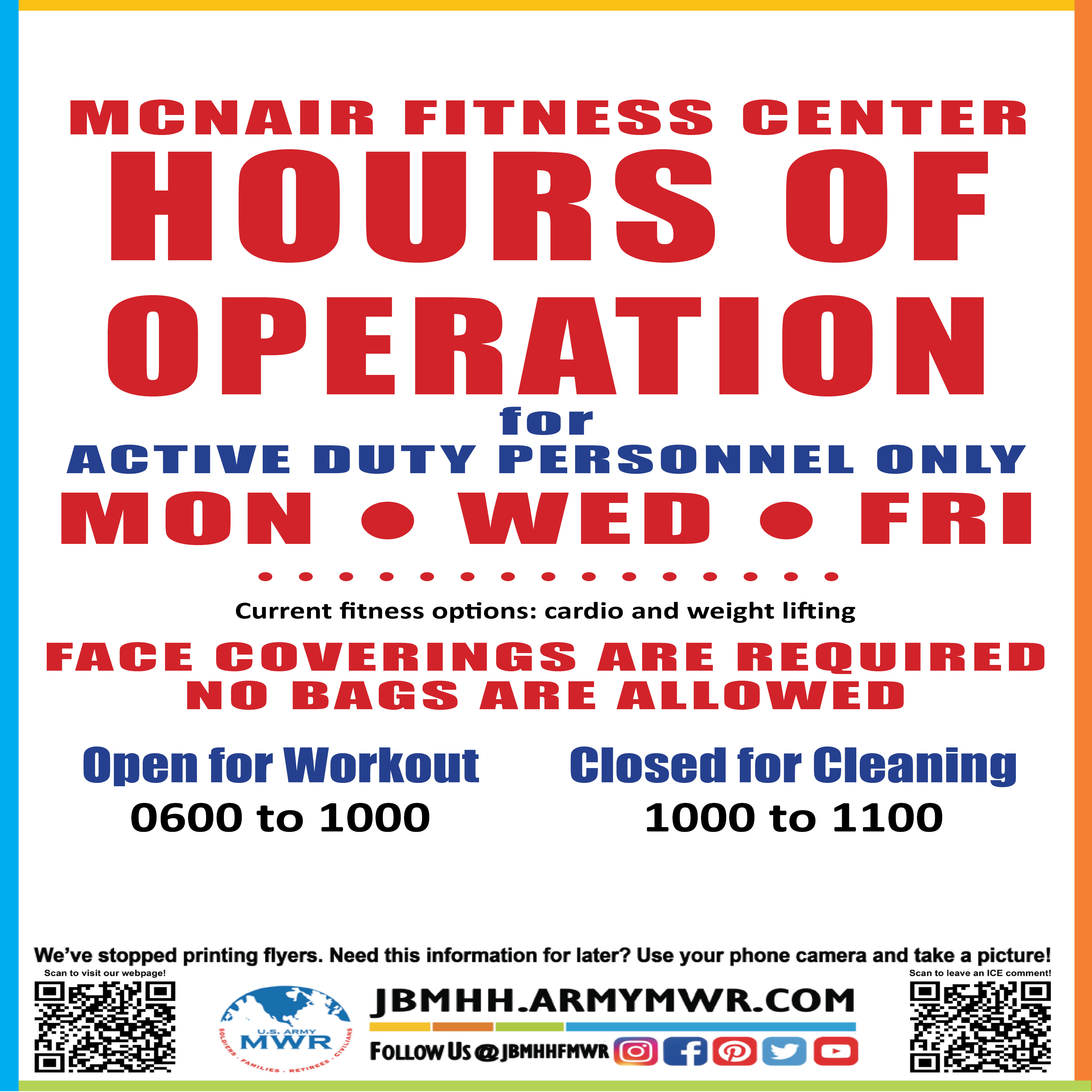 We serve patrons stationed on or visiting Fort McNair in Washington, DC including the Army War College and National Defense University.
Our spacious, state-of-the-art facility features:
2 Saunas
Day lockers and showers
2 racquetball courts
Full-length basketball and volleyball courts
Fort McNair Fitness Center currently offers 24hr access
Please register your CAC card or purchase a PC card at McNair Fitness Center
The weight and cardiovascular rooms include:
Satellite TV
Nautilus Nitro Plus
Hammer Strength equipment
Multi purpose room:
Group fitness classes
Extreme conditioning equipment
Kettle bells
Medicine balls
Ropes
Plyometric boxes
Speed ball
Pull up bars and more.
Combative mats are available for Unit Combatives training, please call in advance to reserve your space.
Please contact the fitness center for open gym times and court reservations.
Personal Training
A.M.P. Applied Maximum Performance
With James Harris, Performance Coach, ISSA-S&C, CFT
Core Connections integrates core stability, core strengthening, and core power. It focuses on functional stability and movements used everyday.
Iron Clad (Weight Training) combines mid-to-high impact movements with weight training for a complete, head-to-toe workout.
Personal Training for individuals and groups
With Arien Heggs, Performance Coach, NASM-CPT, PES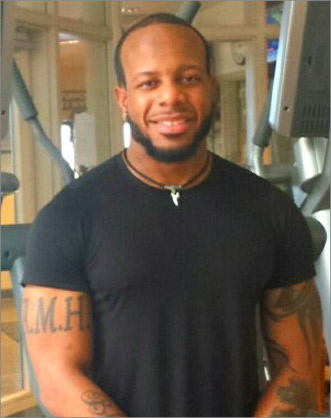 S.A.Q. (Speed, Agility, and Quickness) Become bigger, stronger, and faster. Improve power output, lateral and linear speed, while challenging the anaerobic capacity. This is an intensive class for all interested in taking workouts to the next level.
A.M.P Boot Camp Work the entire body using speed drills, plyometrics, weights, and cardio. A.M.P. Boot Camp is for anyone who wants to be challenged and improve their overall health.
Corrective Exercise Classes are for beginners new to the gym. It helps to ensure they exercise correctly, prevent injury, and to help develop efficient and effective workouts.
Note:  Be sure to consult your physician before you begin a new exercise routine.
Fitness Center Patrons and Policies
The Fitness Center and its programs are available to the following customers:
Active Duty service members and their family members
Retired service members and their family members
Department of Defense ID card holders.
Youth policy:
Youth 16 years or older may utilize the center and all equipment without adult supervision.
Children 15 yrs and below must be accompanied by an authorized adult user and may not be left alone.
Children ages 13-15 may use the facility under the direct supervision of their sponsor who is actively participating in the same activity.
Children ages 12 and under are only authorized to use the gymnasium, track, and racquetball courts with the supervision of an adult who must actively participate with the child.