/
/
School Support Services – Fort Carson
School Support Services - Fort Carson
School Support Services - Fort Carson
M
malourdesgulmatico
Updated
Installation Listings
Installation Listing Category
Geographical Address
Duty Station (or best approximation)
Public Address
1590 Prussman Blvd. BLDG 1518 Fort Carson, Colorado 80913 United States
Contact Info
DSN
+1(719)526-6470, +1(719)526-3362
Welcome to Fort Carson! We are the School Liaison Office and we specialize in education transitions, and make sure incoming and exiting Families have information about local schools, graduation requirements, after-school programs, youth sponsorship, and home schooling that are part of living in Colorado.
Colorado's Open Enrollment
Colorado is unique because it is an Open Enrollment state. The Public Schools of Choice law (C.R.S. 22-36-101) allows resident pupils to enroll at schools in Colorado districts for which they are not zoned. Also referred to as Open Enrollment.
Your School Choices
Attend the public school zoned for my neighborhood
Attend a public school out of my zone/district utilizing Open Enrollment
Attend a public charter school
Homeschool
Attend a private school
Important Reminders
Colorado Springs is in El Paso County.
Fort Carson has 4 Elementary Schools and 1 Middle School on post, however, these are not DOD (Department of Defense) schools. They are part of Fountain-Fort Carson School District 8.
The first four school choices listed above do not cost any additional tuition.
If you choose #2 or #3, you must apply for acceptance and there are enrollment windows.
If you choose #2 or #3, you are responsible for transporting your child(ren) to and from school. Please note that Cheyenne Mountain School District 12 in Colorado Springs provides NO transportation.
How to Decide
We recommend you use the links here to study your choices and learn more about them.
Feel free to call and speak with someone from any of the schools you may be interested in.
Ask friends and neighbors about their school experiences.
Consider how you will get your child to/from school if you choose to attend a school out of your school district.
Our office is ready to answer your questions, offer support and resources, and connect you with schools you may want to learn more about.
Teen Activities/Events
R2 (Ready Resilient teen curriculum) activities and events are ongoing at the Youth Center at 5950 Ware Street, Bldg. 5950.
Additionally, there are resources for both parents and teens through the Military Child Education Coalition at http://www.militarychild.org/.
Fort Carson Area School Districts:
Fort Carson is located in Fountain-Fort Carson School District 8. Schools located on Fort Carson: Abrams Elementary School Mountainside Elementary School Patriot Elementary School Weikel Elementary School Carson Middle School
| School District | Website | Distance to Fort Carson (mi) | Choice Enrollment Window/Deadline for School Year 2019-2020 | Additional Information |
| --- | --- | --- | --- | --- |
| Fountain-Fort Carson School District 8 | www.ffc8.org/ | 0 | Mar 21 - Oct 1 | Renew Choice Application annually. |
| Harrison School District 2 | www.hsd2.org/ | 7 | Mar 15 | |
| Widefield School District 3 | www.wsd3.org/ | 8 | May 3 | |
| Cheyenne Mountain School District 12 | www.cmsd.k12.co.us/ | 11 | Application available: Mar 1 | Does not provide transportation. |
| Colorado Springs School District 11 | www.d11.org/ | 11 | Priority Choice: Nov 1 - Feb 15 | Applications accepted for review through Sept 3 |
| Academy School District 20 | www.asd20.org/ | 20 | Jan 9 - Feb 28 | |
| Falcon School District 49 | www.d49.org/ | 23 | Open Year Round | |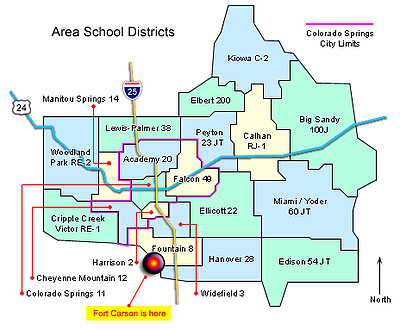 Map