/
/
Relocation Readiness – Fort Carson
Relocation Readiness - Fort Carson
Relocation Readiness - Fort Carson
M
malourdesgulmatico
Updated
Installation Listings
Installation Listing Category
Geographical Address
Duty Station (or best approximation)
Public Address
1517 Ellis Street BLDG 1201 Fort Carson 80913 United States
Newcomers Assistance - Relocation Readiness
Welcome to Fort Carson, Colorado, the Best Hometown in the Army! Known as the Mountain Post, we are one of the top requested stateside locations.
Located on the Southside of Colorado Springs, Fort Carson is a new adventure, a great place to call home, and location where community makes all the difference. And not to mention, Colorado Springs was ranked # 1 Best Big City in "Best Places to Live" by Money magazine, #1 Outside Magazine's list of America's Best Cities and #2 on U.S. News list of most desirable cities.
Whether it's your 1st move or last of many, the Army Community Service (ACS) Relocation Readiness Program is here to help. For newly arrived Spouses, we encourage you to participate in our monthly welcome on Friday, 19 February or Friday, 19 March.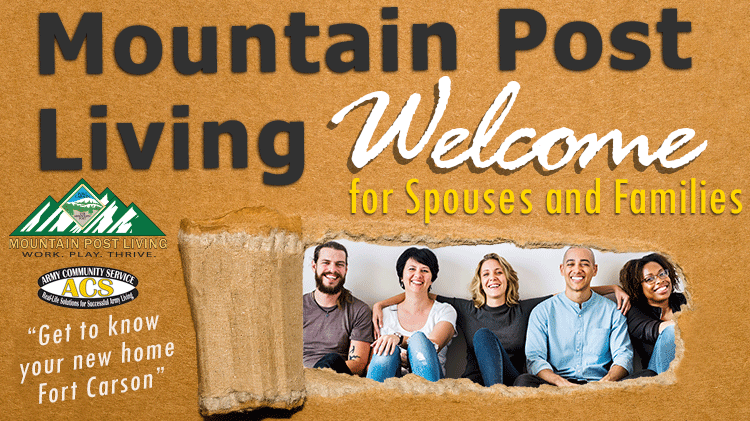 Individual and Bulk
Individual Welcome Packet - Click here to order. Packet will be mailed to you; include your name, address, contact number, arrival date, and any other information you may be needing.
Bulk Order - To request multiple welcome packets, click here. Packets are available for in person pickup only for bulk orders at the ACS Center, Bldg. 1201.  For info, call +1(719)526-0457.
Getting to Fort Carson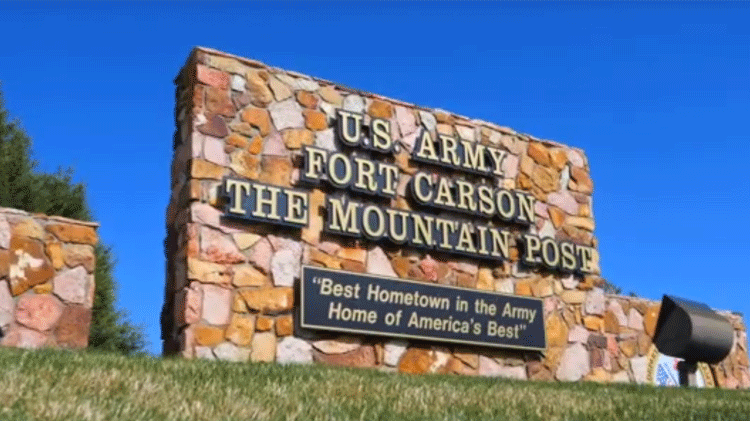 Driving:  Located on the South side of Colorado Springs. Depending on what direction you are coming from on Interstate 25, you'll take either Exit 135 to South Acad­emy Blvd. or Exit 132B onto Magrath Ave. which will take you directly to Gate 20.
Flying:  Denver International Airport (DIA) is about 90 miles North from Colorado Springs; visit their USO to get refreshed. Locally, fly into the Colorado Springs Airport, you'll be about 10 miles from Fort Carson. Single Soldiers and BLC students not assigned to Fort Carson are authorized to use the Colorado Springs Kiosk, +1(719)622-7985, located in the airport to be shuttled to Fort Carson at no cost.
Greyhound:  Located in the downtown area at 120 S. Weber St. in Colorado Springs, +1(719)635-1505. Coordinate pick-up by calling the Replacement Detachment CQ Desk, +1(719)526-6961 or +1(719)524-4475.
Signing In and In-processing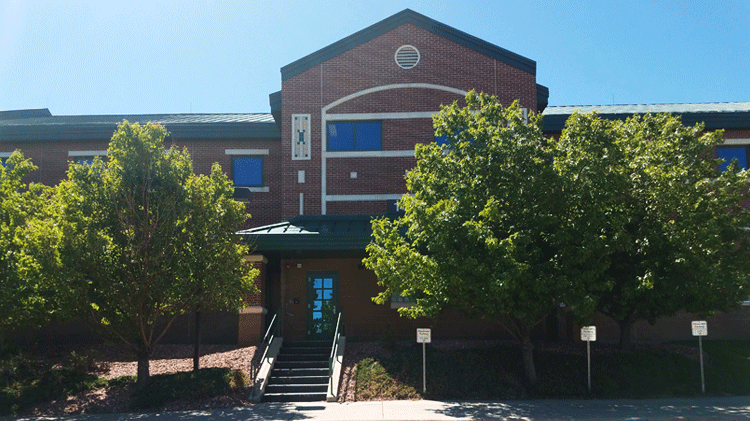 Signing In:  All Soldiers, colonel & below, sign in at the Replacement Center CQ, Bldg. 1456, located at 1783 Nelson Blvd., Fort Carson, Colorado, 80913.  Ensure a copy of your DA31 & orders are with you.  If reporting during duty hours, you must be in uniform. Soldiers are authorized to report in civilian clothes after 1500 & on weekends; must be clean shaven IAW AR 670-1.  To ensure installation in-processing is quick, simple and convenient, all in-processing requirements are completed while the Soldier is at the Replacement Detachment.
Transportation to Replacement Detachment: Soldiers arriving to the Colorado Springs Airport are to use local transportation, such as ride shares or taxis. Soldiers will be reimbursed for local transportation costs on Day Zero once they meet with finance personnel. Receipts are not required for expenses under $75. Soldiers arriving to the Denver International Airport who need directions or assistance en route should call the Replacement Detachment CQ at +1(719)526-6961 or +(719)524-4475.
Lodging:
Unaccompanied, SGT & below, are provided barracks, Bldg. 1367.
Accompanied, SSG & above, make their own lodging arrangements. For reservations at the IHG Candlewood Suites, Bldg. 7222, call +1(719)374-9158.
In-processing Schedule:  All personnel complete a three-day in-processing schedule; includes finance (as part of reception) and scheduled SRP and CIF dates, as well as orientation to Family and Soldier resources on the Mountain Post.
What to Bring:  Fort Carson Soldiers need all CIF. Reporting documents include,
5 copies of all assignment orders and amendments
5 copies of DA Form 31 (leave form)
Copies of profiles (P3 and above only)
Medical record (If given to you by losing command)
Dental record (If given to you by losing command)
Please attempt to bring all copies on your own. We can assist with making copies if needed, by exception.
Compassionate Reassignment Requests:  Report to MPD CAPS in the Mountain Post Soldier Center, Bldg. 1525, Rm 210.
Permissive TDY:  If taking in conjunction with PCS leave & it is annotated on DA31 & approved by an O5 or higher, please sign in at the Replacement Detachment CQ desk. CQ NCO will modify the DA31 to reflect the 10 days PTDY; no longer completed at housing. When PTDY is complete, return to the Replacement Detachment CQ desk to start in-processing. Save the DA31, Finance will need it to complete travel requirements.
Leave Extensions:  If needed, check orders for contact information or call the Replacement Detachment CQ Desk at +1(719)526-6961 or +1(719)524-4475.
DA Civilians Reassigned to Fort Carson:  Report on the 1st day of employment to the Civilian Personnel Assistance Center (CPAC), Bldg. 1118, Rm 161. Located on 1626 Ellis St. Recommend contacting CPAC prior to arrival, +1(719)526-8341 or DSN 691-8341.
Your Relocation Readiness Program
How We Can Help
Relocation Readiness Program flyer
Everyday English Course
Immigration and Naturalization Referrals
Meet-Up Groups for German and Latino
Multicultural assessment appointments
Naturalization ceremonies
English as a Second Language (ESL) Referrals
Translation Referrals
Newcomers to Fort Carson
Details listed above on this page.
Bulk Order of Welcome Packets:  If ordering more than 10, allow 2 business days.
Loan Closet is not available at Fort Carson. To find other resources, open the 211 website and type in the Search services and programs box thrift shops. Fort Carson resources include:
Mountain Post Living Welcome for Spouses and Families
Relocation Assistance (ETS, PCS, Retirement)
Clearing for ACS, AER, & EFMP
Destination Overseas
Loan Closet is not available at Fort Carson. To find a list of area thrift stores, type thrift shops in the Enter Keyword search box for the 211 website. Specific resources on Fort Carson indude:
Office on the Go Services
PCS 101
Relocation Counseling for Chaptering, ETSing and Retiring
Relocation Packets for other locations
Sponsorship Information and Training
Waiting Families Program
Map