/
/
Cheyenne Mountain Shooting Complex – Fort Carson
Cheyenne Mountain Shooting Complex - Fort Carson
Cheyenne Mountain Shooting Complex - Fort Carson
M
malourdesgulmatico
Updated
Installation Listings
Installation Listing Category
Geographical Address
Duty Station (or best approximation)
Public Address
7790 Route 1, Fort Carson, CO 80913, United States
The range will reopen with modified hours to help us ensure the mitigation measures are being followed.
CMSC is now operating in full fall and winter hours.
Wednesday–Friday: 9 am-4 pm Weekends: 8 am-4 pm
We have been permitted to continue renting firearms.
The following outlines the steps we are taking to provide a safe and clean environment.
We believe that with some preventative measures the shooting complex can provide a safe way to allow Soldiers, Retirees and their families a place to train and find a sense of normalcy.
A. The shooting complex is currently undergoing maintenance practices that will limit parts of the operation but with the following mitigation measures.
B. Customers will be served individually and space controlled by stanchions and signage explaining to wait until the person in front has exited.
C. There will be only one entrance and one exit to help reduce the exposure and to keep the flow of traffic moving in the same direction.
D. All employees will wear protective gloves.
E. All employees shall remain at a distance of at least 6 feet from each other to include all customers
F. All employees will disinfect their hands and surfaces after every transaction
G. All ranges will have limited shooters to observe proper social distancing
H. All shooting stations will be disinfected and wiped down by the Range Safety Officer after each customer use.
I. The outside restrooms will remain locked, if you need to use the restrooms please ask the range safety on the range for the key in order to use it.
J. We will only accept credit/debit card transactions.
K. In keeping with practicing social distance we will be having one shooter per every other shooting bench unless you are instructing someone under the age of 18 years of age or your spouse.  We ask that everyone else remain behind the red line keeping at least six foot distance from everyone else on the range.
Open to the public.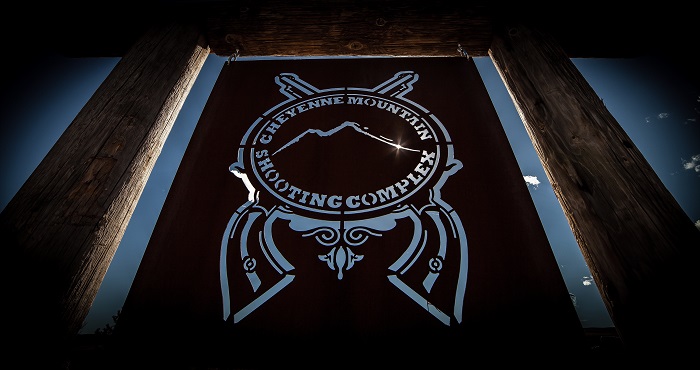 Shooters:  The Cheyenne Mountain Shooting Complex will begin closing Tuesdays starting January 1, 2020.  The first responders discount offered on Tuesdays will be moved to Wednesdays.  Thank you for your continued support and understanding.
The Cheyenne Mountain Shooting Complex (CMSC) is a partnership between the U.S. Army, El Paso County, the El Paso County Sheriff and Colorado Parks and Wildlife and the U.S. Forest Service. The 400 acre site sits on Army land near Interstate 25 just off mile marker 132. The entrance is located just outside Fort Carson's Gate 20 security perimeter. Shooters using the range will not have to enter Fort Carson to use the range.
Rates and Fees
Daily Rates
| | |
| --- | --- |
| Rates | Category |
| $6 | Children 6-12 |
| $8.50 | Active Duty |
| $10 | Retired Military |
| $10 | DOD Civilian |
| $12 | Civilian |
5 Visit Punch Pass
| | |
| --- | --- |
| Rates | Category |
| $37.50 | Active Duty |
| $45 | Retired Military |
| $45 | DOD Civilian |
| $55 | Civilian |
10 Visit Punch Pass
| | |
| --- | --- |
| Cost | Category |
| $75 | Active Duty |
| $90 | Retired Military |
| $90 | DOD Civilian |
| $110 | Civilian |
25 Visit Punch Pass
| | |
| --- | --- |
| Cost | Category |
| $185 | Active Duty |
| $220 | Retired Military |
| $220 | DOD Civilian |
| $250 | Civilian |
Weekly Specials
| | |
| --- | --- |
| Wednesday Veteran Appreciation Day/First Responder Day | $8 |
| Thursday Senior Citizen Day | $8 |
| Friday DOD Civilian Day | $8 |
Archery Range
| | |
| --- | --- |
| Cost | Category |
| FREE with paid general admission | Static Archery Range Only |
| $5 | 3D Archery Range/Static Range |
Card and badge carrying law enforcement officers (active and retired) receive a 10% discount on all range fees
Visa, Mastercard and Discover card accepted
No personal checks accepted
No reservations required
Range Regulations
No concealed carry
No children under the age of 6 years old allowed on the range.
No shooter under 18 may use the range facilities without adult supervision
Shooters under the age of 21 must have an adult present to use the pistol range
Know and obey ALL range commands and instructions given by your RSOʻs (Range Safety Officers) at all times
Empty Chamber Indicators (ECI) must be inserted in the chamber of all cleared firearms during all "SAFE" or "COLD" conditions on the range
Shooting takes place on designated ranges only
All firearms must remain in a carrying case or in a holster, unloaded and with the magazine removed prior to reporting to your assigned range
Only remove your firearms from its carrying case or holster once you have been instructed to do so by the RSO
Once firearms are removed from the carrying case or the holster, shooter then places the firearm on the shooting table that has been assigned to them with the magazine removed or cylinder open, lock the bolt to the rear, place selector on safe and barrel pointed down range
No armor piercing, tracer, or incendiary ammunition may be used on any range.
No consumption of alcohol prior is allowed. No alcoholic beverages allowed. Violators are asked to leave the premises and fees are not refunded.
Range One is limited to use by the El Paso County Sheriff's personnel and other law enforcement Monday through Friday.
Ear and eye protection must be worn by everyone on the firing line.
The use of illicit drugs is strictly prohibited on federal property
Range Information
7 Independent ranges with over 110 individual covered firing points
Over 50 pistol positions
Range distances from 7 yards for handguns up to 300 yards on paper for rifles
Steel targets from 500 yards up to 1000 yards (1000 yard steel range only available weekends)
Archery range
Ammunition & Targets available on-site
Two combo Trap & Skeet Ranges

1 range (Range No. 1)  is designated as a Law Enforcement Range and is available to the public only on weekends.

1 range is a combination rifle and pistol range.

2 ranges are designated specifically for rifles and allow for firing points between 25 and 300 yards.

2 ranges are designed specifically for pistols and allow for firing points up to 50 yards.

1 range is designated as an instructional range.
Please call for additional information.
Restricted Caliber Information
High Calibers (.300 Win Mag through .338 Lapua) Can be fired, but only on Range Three.  There are four positions for the high calibers: two positions for 50 and 100 yards on paper and two positions for 300 yards on paper only.  These are the only three distances you can shoot using the high calibers; they are not allowed to be shot at steel targets. This is due to the high calibers having the ability to shoot over our backstop and onto Fort Carson proper.
50 yards, 100 yards, 300 yards on paper.

Absolutely no steel target shooting.

.50 caliber cartridge rifles are still not authorized.
Map