/
/
Special Events – Fort Bliss
Special Events - Fort Bliss
Special Events - Fort Bliss
M
malourdesgulmatico
Updated
Installation Listings
Installation Listing Category
Geographical Address
Duty Station (or best approximation)
Public Address
Building 11 Pershing Road West Bliss Fort Bliss 79916
The Special Events department is dedicated to bring unique, entertainment and activities to the Soldiers and the families of Fort Bliss.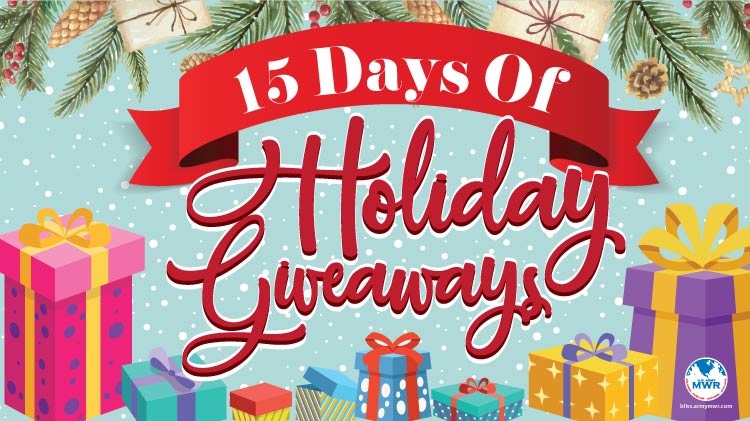 15 Days of Holiday Giveaways
The holidays are here so MWR is bringing holiday cheer with our 15 days of Holiday giveaways. We love our families and this is a just one simple way we can say "thank you" for all you do!
Each weekday starting on November 30th and ending on Dec. 18th (Monday – Friday) we will post a question that can either be found on our webpage bliss.armymwr.com or one of our partner's web pages. Once you have the correct answer, enter it in the form below AND comment on the Facebook post that you submitted the answer.  DO NOT COMMENT WITH THE ANSWER!  That will disqualify you.  Once you submit the form and comment, you will automatically be entered into the random drawing for that day's question. We will post NO LATER than 10am and choose a winner by the end of the day as close to 4pm as we can.
Rules:
 Must be a DOD ID Card holder to participate and win (we will be checking IDs upon prize pickup).
Must follow the rules completely and accurately to be entered in the daily random drawing.
Must pick up your prize within 3 business days of being notified (the winner of Dec 18th must pick up on Dec 21).
Must send the email with the correct answer AND post under the posting to be qualified.
Patron can only win once during the giveaway.