/
/
Fort Bliss Ironworks – West Mission Essential Fitness (MEF)
Fort Bliss Ironworks - West Mission Essential Fitness (MEF)
Fort Bliss Ironworks - West Mission Essential Fitness (MEF)
M
malourdesgulmatico
Updated
Installation Listings
Installation Listing Category
Geographical Address
Duty Station (or best approximation)
Public Address
2996 Cassidy Road Fort Bliss Fort Bliss 79916 United States
Ironworks Gym East and Ironworks West are both available for unit reservations during PT hours. They have also opened military ID cardholders and DoD civilians.
Ironworks Standard Operating Procedure (SOP)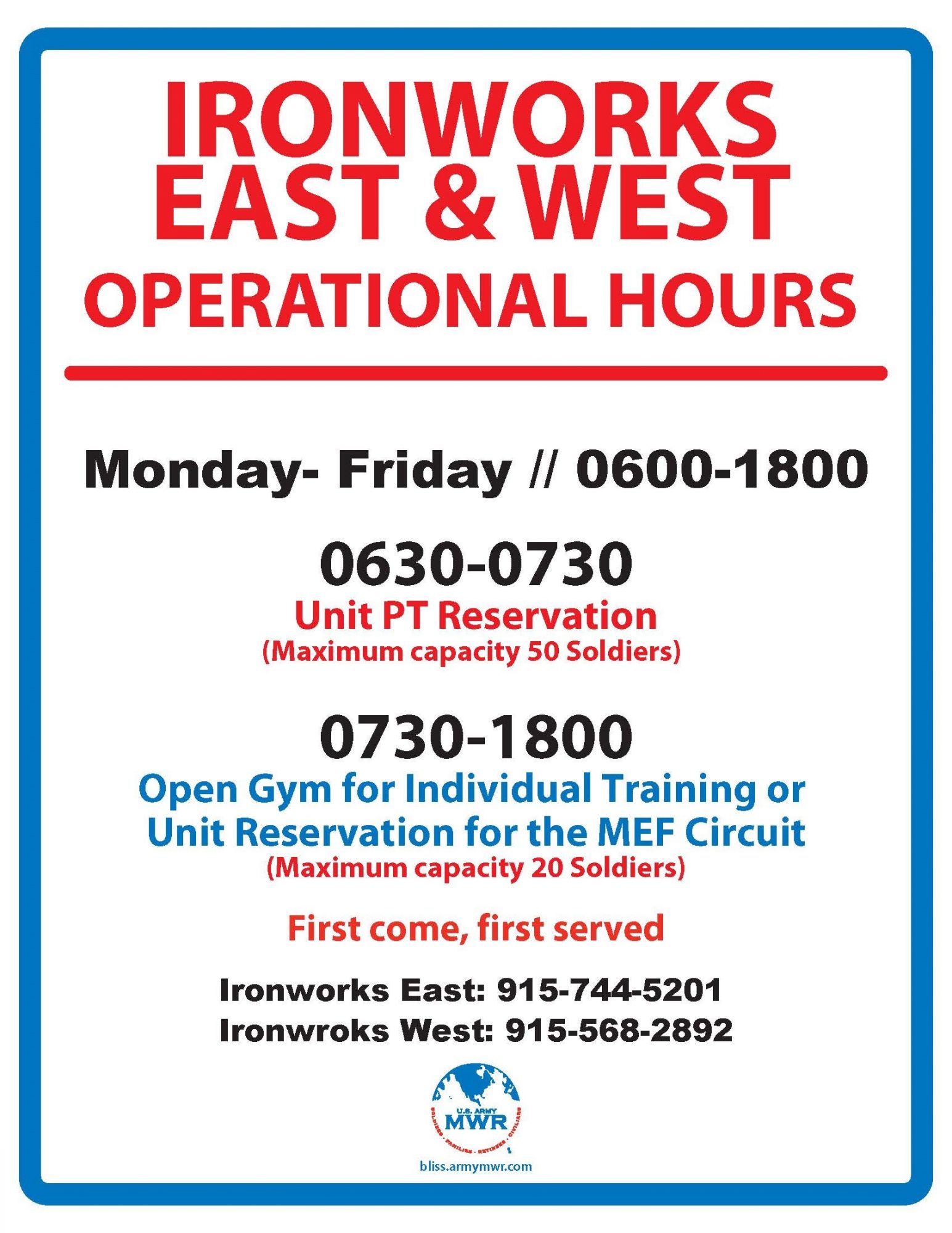 Functional Exercise Program
Specific to the Mission - All training should be mission-specific, working to develop and maintain mission-specific strength.
Integrated- It should include a variety of exercises that work on power, strength, speed, and agility.
Increases Core Stability- Core stability is crucial for any mission.
Increases transference of power from the lower to upper body.
Increases ability to maintain correct athletic posture over long periods of time.
Progressive- Progressive resistance training steadily increases the power/strength demand from workout to workout.
Utilizes varying speeds of movement to make it more mission-specific.
Periodization - For professional soldiers and tactical athletes, functional training needs to fit into their training cycle.
Will vary throughout the year to achieve optimal results, peaking for deployment and maintaining their power and strength while in theater.
Using four (4), 12-week training cycles per year with one (1) week rest between each cycle.
Mission Essential Fitness
Simply put, Mission Essential Fitness (MEF) is the training required to condition Soldiers to perform their mission, in Garrison as well as any operational environment.
A U.S. Soldier is required to have a high level of fitness, capable of performing a multitude of physical tasks, involving power, strength, speed, and agility. Functional training incorporates all of these fitness components to train Soldiers as tactical athletes both aerobically and anaerobically.
Unit PT
Traditional morning and non-traditional afternoon classes
Use of Bosu Ball, Kettle Bells, TRX Straps, Gravity Training Systems,
Weights
Entry Level Circuits designed to teach form and basic strength movements
High-Intensity Circuits combining all types of Functional Training to include compound movements and explosive power
Mission Essential Fitness Preparation For The Army Combat Fitness Test (ACFT)
The Mission Essential Fitness (MEF) Program is ideal for Soldiers preparing for the Army Combat Fitness Test (ACFT). The MEF circuits prepare Soldiers for the movements that they will need to do for the ACFT. These movements include the Trap Bar Deadlift, Medicine Ball Throw, T Push Up, Sprinting, Lateral Shuffles, Kettle Bell Carry, Sled Drag, and Knee Tucks. Each exercise movement or a variation of the exercise movement is included in the MEF circuit at Ironworks East and West. The Soldiers will gain strength and muscular endurance in their upper body, lower body, and core muscles. The Soldiers will become proficient in the movements and will allow them to score well on the ACFT. The High-Intensity Interval Training that is the MEF circuit has been shown in studies to improve run time for the two-mile run without the need to run. The Department of Human Performance staff at both Ironworks East and West can also teach proper lifting technique and execution of the exercises to Units and Soldiers. Contact either gym to set up a training class to better prepare the Soldiers.  A stronger and better-prepared Soldier will lead to better performance on the ACFT.
Ironworks West has 1 to 5 lanes of equipment for units to check out Monday through Friday from 0600 to 1400. All equipment must be returned no later than 1700. The equipment must be reserved through Ironworks West ahead of time and reservation availability is on a first-come, first-serve basis. The ACFT equipment can only be used at the Stout PFC Track and Field.
Functional Fitness Equipment
Training designed for tactical athletes of all abilities to prepare the Soldier to perform their daily duties by developing strength, balance, flexibility, and joint stability. This will reduce the risk of injury and allow a Soldier to complete their mission."
Functional Equipment:
Bosu Balls
Wobble Boards
Kettle Bells
Medicine Balls
Traditional Weights
Elastic Bands
Agility Ladders
Hoops
Hurdles
And other exercise equipment
Circuit Training Layouts & M.E.F. Benefits