/
/
Army Community Service – Fort Bliss
Army Community Service - Fort Bliss
Army Community Service - Fort Bliss
M
malourdesgulmatico
Updated
Installation Listings
Installation Listing Category
Geographical Address
Duty Station (or best approximation)
Public Address
2494 Ricker Road Fort Bliss Fort Bliss 79916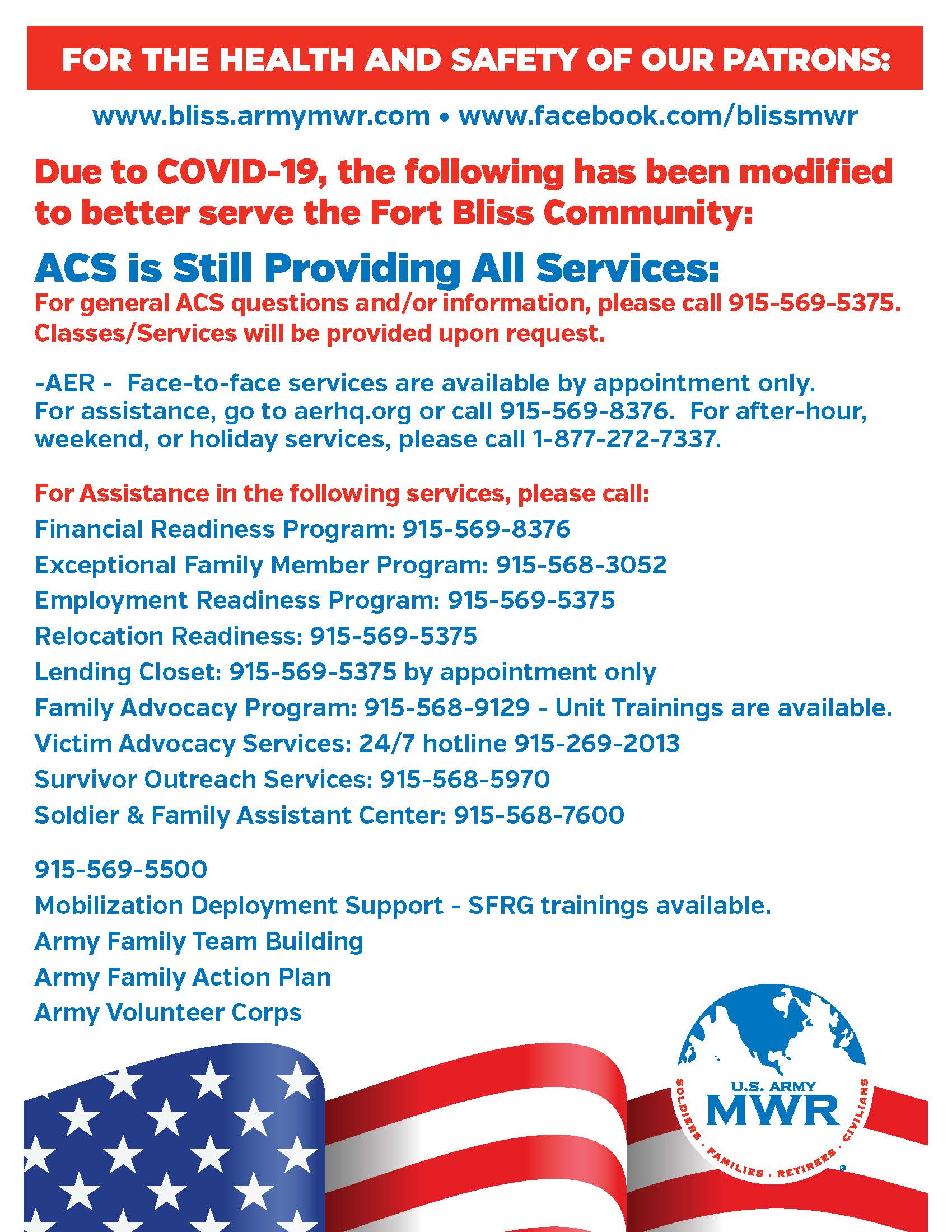 Due to COVID-19, the following has been modified to better serve the Fort Bliss Community: For general ACS questions and/or information, please call 915-569-5375 Classes will be provided, upon request.
Learn About Army Life
Army Family Team Building (AFTB) includes online and classroom classes that cover topics such Army life, self-development, and leadership skills. AFTB Level Modules feature:
Level 1: Learn about Army life and how to maneuver through daily challenges by discovering how to decipher Army acronyms, utilize Community Resources, attain better financial readiness and understand the goal and impact of the Army mission on daily life.
Level 2: Grow personally through self-development modules. The modules teach participants how to improve their communication skills, personal relationships, and stress management. Participants discover team dynamics, how to solve problems and how to resolve personal conflict.
Level 3: Expand leadership skills, effective communication techniques, and mentorship skills by taking the training modules. Learn about different leadership styles, how to run an effective meeting, how to manage group conflict, and how to coach and mentor others. The Enlisted Spouses Course Series prepares enlisted spouses to assume additional responsibilities as their Soldiers progress through their positions as Drill Sergeants, Recruiters, and First Sergeants.
Family members with Special Needs
The Exceptional Family Member Program (EFMP) provides an all-inclusive approach for community, educational, medical, housing and personnel services for Families with special needs. An exceptional Family member may be a child or an adult with any physical, emotional, developmental or intellectual disorder that limits the individual's capacity to engage in pursuits with peers or that requires:
Special treatment
Therapy
Education
Training
Some of the conditions that would qualify a person as an exceptional Family member include:
Asthma
Epilepsy
Diabetes
Developmental delays
Speech
Language
Hearing or visual impairment
Behavioral issues
Physical disabilities and mental health disorders
Respite Care Information Army One Source: Exceptional Family Member Respite Care Program
Enrollment and Screening Information US Army Medical Department: Exceptional Family Member Program
Contact your ACS EFMP Manager for assistance!